Commercial Roofing – Professional Service on all Types and Sizes, let us be Your Roofer of Choice.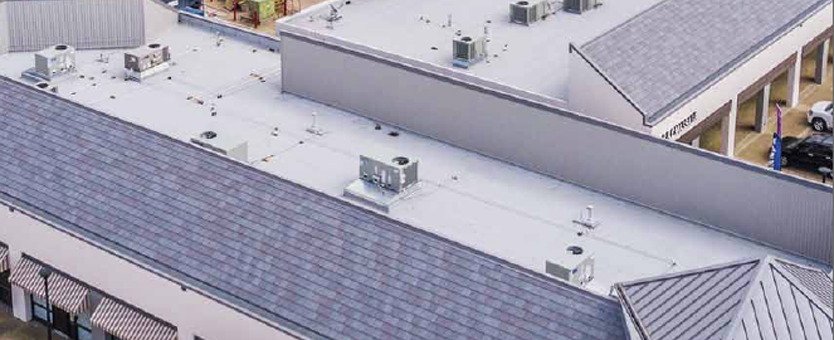 A Commercial Roof Protects Your Business & Assets
In most cases, building owners aren't concerned with the particular material their roof is made out of. The function of a roof is to protect what's inside the building – the structure, its contents and occupants. The roof shields a building from damage to these assets. What building owners are really looking for is performance. They're looking for durability. Warranties cover leak repair, not asset damage or disruption of service. Every investment decision an owner makes should include an understanding of needs and weighing the value of price versus risk. Smith Roofing cannot only install new commercial roofs, but also re-roofs and repair damaged roofs.
Our Reputation and Experience Makes us the Roofer of Choice
Smith Roofing is a commercial roofing contractor. Our experience and technical knowledge of commercial roofing makes us the best choice for commercial roofing. With over 40 years of commercial roofing experience we have had many happy commercial roofing customers. Take a look at our testimonial page to read some reviews. One of our biggest assets is the referrals happy customers give us.
Re-Roofing Commercial Metal Roofs Has Never Been So Easy

With ER Systems, we can re-coat your existing metal roof with amazing results. This Tallahassee warehouse near FSU got a complete makeover with primer, base coat and final coat application of ER Systems "Elastomeric Roofing Coating" system. Now this facility will last for years and years with no worries. Now that's great commercial roofing coating. Check out the video below.
With "Cool Star" You Save Energy
We have products that can save you money. With cool roof from CertainTeed, we can install your roof which will then reflect sunlight away to keep your interior cooler than other roofing products. And, the superior materials will keep the elements out for years to come. Check out the Brochure HERE.
Use of cool roof technology is one of the easiest, cost effective ways to lower energy consumption. This highly reflective roof lets only a fraction of the solar energy through into the building.